Young-onset dementia (YOD), which is dementia that develops in persons under the age of 65, is becoming more common in Singapore. At the same time, there remains much to be done to build services that fit the unique profile, needs, and preferences of persons living with YOD. In this piece, Emily Ong, a dementia self-advocate who has YOD, highlights this issue in greater depth, calling for the right support for young-onset dementia.
There is a pressing need for timely, appropriate post-diagnostic support and interventions for persons with young-onset dementia.
While there has been a growing focus on developing community awareness of dementia in Singapore, the special needs of younger people living with dementia and their families should be properly addressed. Many existing post-diagnostic services and support systems are developed with the elderly in mind, since dementia is more prevalent in this age group. This results in services and support that may not adequately meet the specific needs of those affected by young-onset dementia.
Services and intervention have often been focused on cognitive stimulation therapy. Yet, we know that the impact of a diagnosis of dementia can cause significant family distress and social isolation, and services should address these issues too. Younger persons living with dementia and their families have a greater need for emotional, socio-psychological and relationship support, regardless of their dementia stages upon diagnosis. The sense of grief over the 'loss of person within' and multiple other losses can have major effects on persons with dementia and their life together as couples and family units.
It's important to realise that generic dementia services, often designed for older cohorts, are not suitable if the nation wants to help younger persons with dementia, who are often still physically fit, maintain an active life and stay independent for as long as possible. As a person living with dementia, I would say we need post-diagnostic support and interventions that support us in engaging socially, enable us to be involved meaningfully, and empower us in a dignified manner. A diagnosis of dementia does not make an individual a lesser being. We still have the same needs, and want to continue feeling like valuable, productive, and contributing members of our family, community, and society.
An increasing number of people are diagnosed with young-onset dementia each year, and it is imperative that we consider these special needs when planning future dementia policies and implementing post-diagnostic support and interventions. Policy makers, health, and social care providers should proactively consult and engage younger persons living with dementia and their families to ensure that what is implemented is appropriate. This will leave those with young-onset dementia, and their families, better equipped to deal with changes in abilities, relationships, and roles that may arise as the condition progresses. We need more than a 'one-off' kind of support- ongoing guidance and support is necessary to enable them to live well and meaningfully despite dementia.
This piece was previously published in the July 2020 edition of Voice of Dementia, a newsletter by Dementia Singapore.

Since 2020, the dementia landscape in Singapore has changed: there are now post-diagnostic services by the Agency for Integrated Care and Dementia Singapore that persons living with dementia, including those with young-onset dementia, can use. In addition, Dementia Singapore has set up Dementia Social Club, a care approach in which persons living with dementia and caregivers can meet at social gatherings to receive skills training and peer support. This piece has been edited by the DementiaHub.SG team to reflect these changes.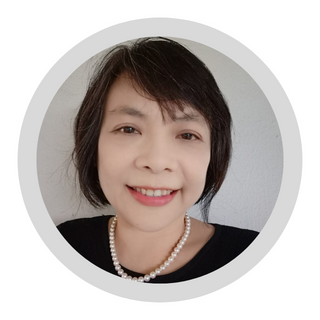 Emily Ong is a trainer, speaker, workshop facilitator, and program developer in dementia-related topics based on lived experience, academic reading and grassroot involvement. She has been a co-facilitator of Dementia Singapore's Voices for Hope program since 2019. Emily was also recently elected to the Alzheimer's Disease International (ADI) Board of Directors for the position of person with dementia. Additionally, she serves in the Global Review Panel of the ADI Accreditation Team and a focus group member of the WHO Global Dementia Observatory Knowledge Exchange.