About Dementia-Friendly Singapore (DFSG)
What is Dementia-Friendly Singapore?
The Dementia-Friendly Singapore (DFSG) is a national initiative announced by the Ministry of Health (MOH) in 2016 to address dementia prevalence in Singapore. This was spun off from the ground up Forget Us Not campaign by Lien Foundation, KTPH and partners in making Chong Pang dementia-friendly in 2015. 
Under DFSG, the Agency for Integrated Care (AIC) and community partners aim to build dementia-friendly communities and nation to support persons living with dementia through the 3Es strategy. The desired outcomes are promotion of preventive activities, encourage early identification and provision of care and support.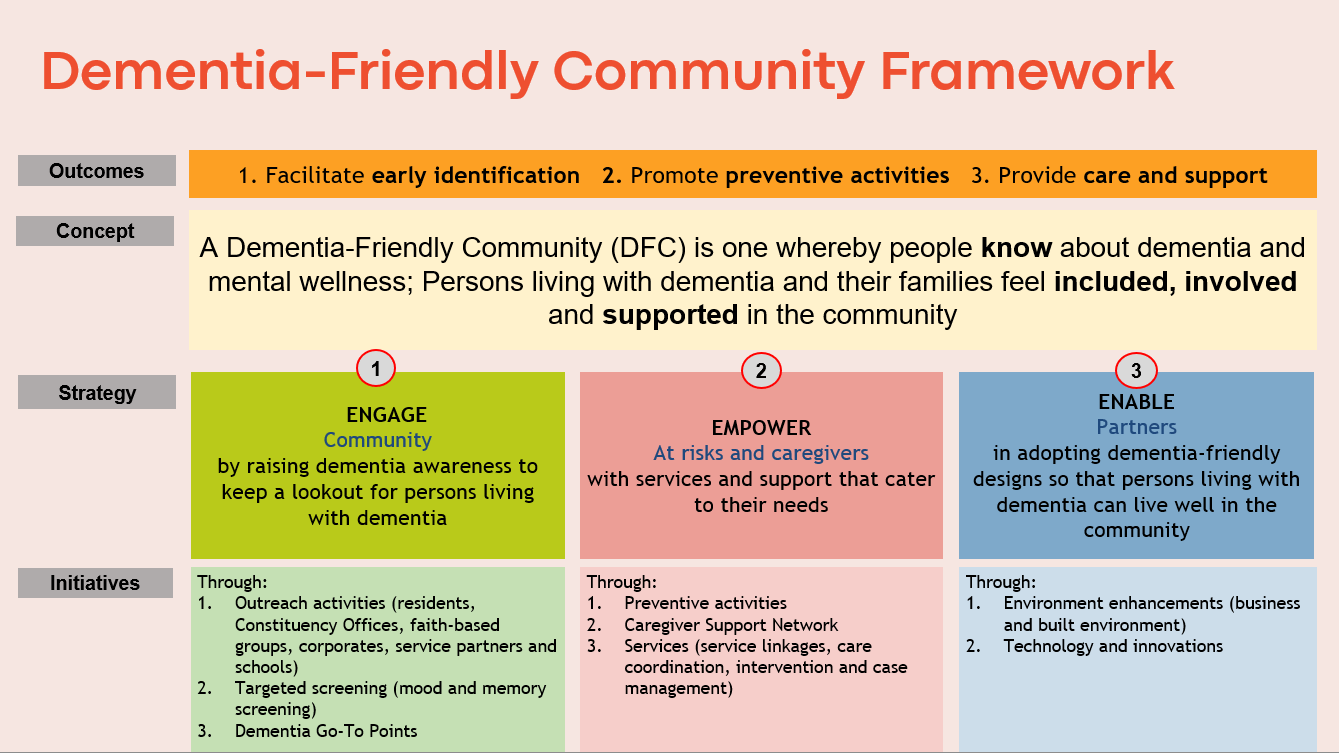 To build a Dementia Care network that provides supportive network for dementia/mental health needs in the community.
Phase 1 – Developing Dementia-Friendly Communities
Evolvement: Shift from DFC building to DFSG building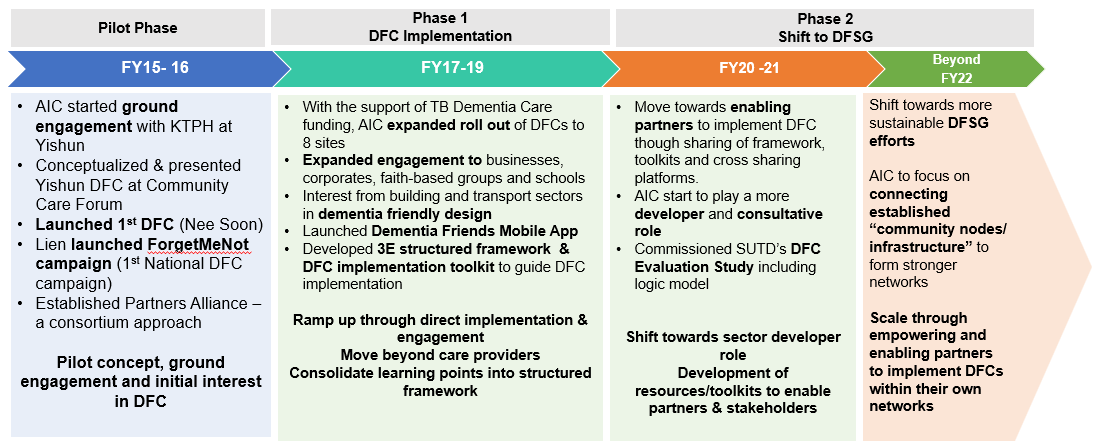 Pilot Phase
FY15 – 16
AIC started ground engagement with KTPH at Yishun
Conceptualised & presented Yishun DFC at Community Care Forum
Launched 1st DFC (Yishun)
Lien Foundation launched "Forget Us Not" campaign (1st national DFC campaign)
Established Partners Alliance – a consortium approach
⇒ Pilot concept, ground engagement and initial interest in DFC
Phase 1 DFC Implementation
FY17 – 19
With the support of Tote Board Dementia Care funding, AIC expanded roll out of DFCs to 8 sites
Expanded engagement to businesses, corporates, faith-based groups and schools
Interest from building and transport sectors in dementia-friendly design
Launched Dementia Friends Mobile App
Developed 3E structured framework & DFC implementation guide to assist keen partners in setting up DFCs
⇒ Ramp up through direct implementation & engagement
⇒ Move beyond care providers
⇒ Consolidate learning points into structured framework
Phase 2 Shift to DFSG
FY20 – 21
Move towards enabling partners to implement DFC through sharing of framework, toolkits and cross sharing platforms
AIC start to play a more developer and consultative role
Commissioned SUTD's DFC Evaluation Study including logic model


⇒ Shift towards sector developer role
⇒ Development of resources/toolkits to enable partners & stakeholders

Beyond FY22
Shift towards more sustainable DFSG efforts
AIC to focus on connecting established "community nodes/infrastructure" to form strong networks


⇒ Scale through empowering and enabling partners to implement DFCs within their own networks
Phase 2 – Starting a Dementia-Friendly Singapore Movement
From FY22 onwards, the current effort of developing DFCs will evolve to a DFSG movement under the Community Master Health Masterplan.
The next phase of implementation will focus on expanding the dementia-friendly initiatives outside of the DFCs and strengthening the established networks for better integration. This is to better address the anticipated increase in need for dementia awareness, support and care in the community as the prevalence of dementia increases with an ageing population. The experiences and dementia-friendly initiatives from the DFCs can be implemented at a national level to involve more stakeholders, thus benefiting more persons living with dementia and their caregivers.
Dementia-friendly efforts should be a ground up process for it to be useful and sustainable for the community. Hence, while DFCs remain the cornerstone of a dementia-friendly nation, AIC will not be actively approaching grassroots leaders and stakeholders to set up new DFC. Instead, stakeholders will continue to be engaged so that they understand the importance of DFC and be encouraged to set up a DFC through the regular engagement with AIC in Phase 2. AIC will continue to support the current DFCs and provide relevant resources to partners who are keen to set up DFC.