About Dementia-Friendly Singapore Movement
#DementiaFriendlySG Movement – Let's Build a Caring and Dementia-Friendly Singapore Together!
Lend a Helping Hand, Be a Dementia Friend
1. Keep a lookout for one another
A person living with dementia may face difficulties with speech, movement coordination or poor memory. These are some of the challenges as a result of cognitive decline in the brain which affects their body functions.
They may require our help when they move around in the neighbourhood engaging in their daily activities. You can play a part by being aware of dementia and its symptoms so that you can keep a look out for them when they require assistance.
2. Know your nearest Dementia Go-To Points (GTPs)
On 20 November 2022, the Agency for Integrated Care (AIC) officially launched the inaugural campaign to spearhead the national movement to make Singapore dementia-friendly. The social movement aims to rally the society as individuals, community and businesses to play a part in building a caring and dementia-friendly Singapore. It aims to raise greater public awareness about dementia and encourage every individual to lend a helping hand as a Dementia Friend. It is important for our ageing nation to build a caring and supportive environment for persons living with dementia to continue living a fulfilling life in the community.
The movement was part of the Dementia-Friendly Singapore (DFSG) initiative, announced in 2016 by the Ministry of Health (MOH) to address the growing dementia prevalence in Singapore. Led by AIC, the campaign hopes to spread the message on the importance of creating an inclusive society and advocate ways that anyone can become a Dementia Friend in supporting persons living with dementia in the community.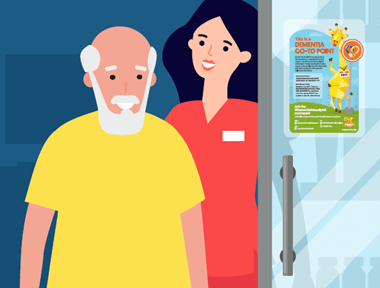 If you encounter a person appearing lost in your neighbourhood, you can bring them to your nearest dementia GTPs. These GTPs are nodes in the community, supported by corporates and community partners, which serve as a safe return point for persons living with dementia who may wander off and lost their way. The staff were trained to know how to help them to reunite with their families. Public can also pick up dementia brochures or find out resources about dementia at these GTPs.
Click on the banner below to view a list of GTPs in your region.


You can help to spot for reported persons living with dementia who went missing in the community via the app. CARA, which stands for 'Community, Assurance, Rewards and Acceptance', was developed by Dementia Singapore in advocating the public about dementia and a dementia programme for persons living with dementia and their caregivers.
Download the app to:
Access trusted resources and support
Obtain a unique identifier and a membership card for persons living with dementia
Receive support for the safe return of a wandering person living with dementia
Everyone Can be a Dementia Friend
Hear from these individuals whom we come across in our daily lives. These profile representations illustrate the various dementia-friendly ways we can exhibit as Dementia Friends.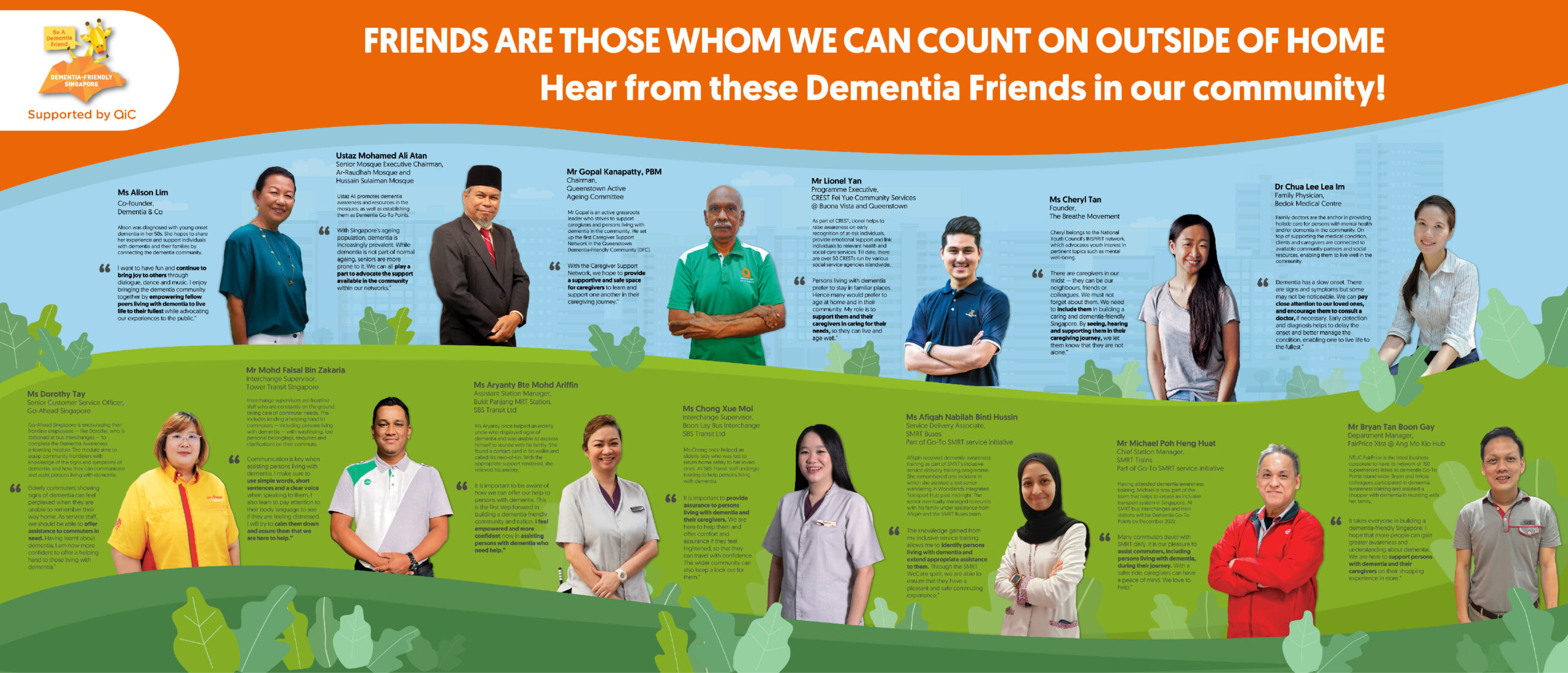 Read more about how you can become a Dementia Friend.
Be a Dementia Friend today and collect your Giffy pin! (While stocks last.)
Singaporeans can join the #DementiaFriendlySG Movement via the following ways:
Like the Dementia-Friendly Singapore Facebook page to follow the latest happenings, contests and quizzes and stay updated on news and events on dementia.
Learn about dementia by completing an e-learning module on dementia awareness.
Download the CARA app (developed by Dementia Singapore) to keep a look out for reported missing persons living with dementia.
Learn more about dementia and caregiving resources on DementiaHub.SG.
Follow Dementia-Friendly Singapore on Facebook and watch out for our Giffy Challenge which will be rolling out a series of campaign activities.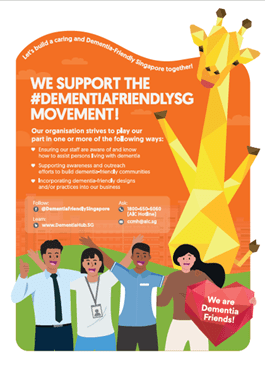 Spot the #DementiaFriendlySG Movement partner decals put up on the premises of our partner organisations.
If you need advice or support on dementia, mental health or caregiving resources, you may reach out to your nearest Community Resource, Engagement and Support Team (CREST). The CREST team focuses on raising public awareness of mental health conditions and dementia, promotes early recognition of at-risk individuals, provides emotional support to individuals and their caregivers and links individuals to relevant health and social care services when necessary. Learn more about CREST and find the list of such teams here.
Gathering Dementia-Friendly "Hearts"
The campaign adopts the concept of hearts, featuring its dementia-friendly mascot, Giffy, to illustrate the dementia-friendly behaviours that can help to build a better and caring nation. It calls for members of the community to become a Dementia Friend in support of persons living with dementia.
Meet Giffy, the DFSG Mascot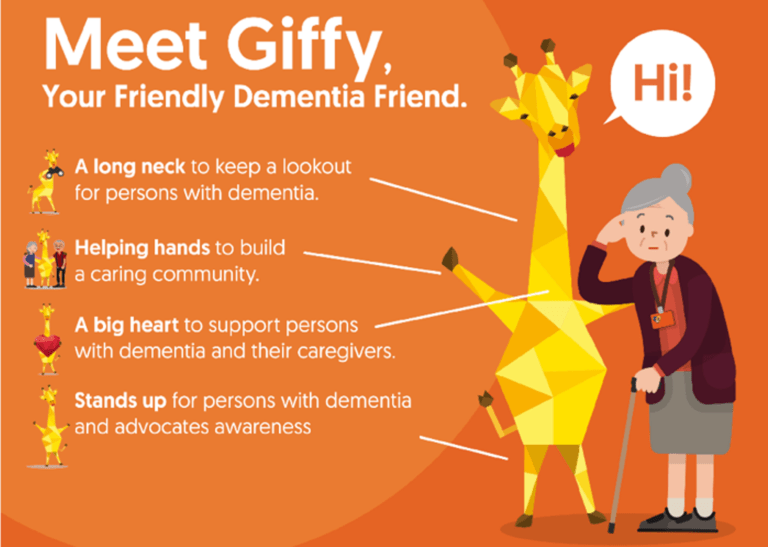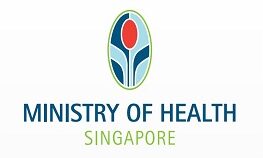 In collaboration with
Our Strategic Partners:

Dementia-Friendly Communities
Yishun
Hong Kah North
MacPherson
Queenstown
Bedok
Fengshan
Teck Ghee
Taman Jurong
Bukit Batok East
Woodlands
Toa Payoh East
Toa Payoh West-Thomson
Kebun Baru
Yio Chu Kang
Clementi
Dementia-Friendly Partners (Corporates / Organisations)
For the full list of partnering nodes listed as GTPs, please click here.
We thank our Dementia Friends, corporates and community partners who join us in this journey in building a caring and dementia-friendly Singapore.