As dementia progresses, a person may lose weight and suffer from undernutrition due to reduced appetite, declining cognitive function and behavioural changes.
Eating a balanced diet and drinking sufficient fluids are important to maintain physical and mental well-being. Any physical illness can make a difference to a person's ability to cope. It may also make them confused or forgetful.
Understanding Dementia: Part 7
Source: Agency for Integrated Care
Today, there has been no clear and consistent information on dietary factors that may increase or decrease the risk for the onset of dementia. However, adopting a Mediterranean diet may lower the risk of cognitive decline and dementia. This means eating higher proportions of grains, fruits, fish and vegetables.
Eating a well-balanced nutritious diet is important for overall health.
The key to the ideal meal for seniors or persons living with dementia is not necessarily providing a special diet, but providing variety, balance and moderation. As they tend to eat less, they will require more vitamins and minerals to support their diets.
The fluid requirements for seniors are similar to younger adults'. Seniors, however, tend to drink less than what their bodies need for a number of reasons:
With age, the body loses its ability to detect thirst.
Some seniors also suffer from poor memory, immobility, or illness — all of which can result in decreased fluid intake.
In addition, certain medications can also interfere with feelings of hydration and/or the thirst mechanism.
Tips to increase fluid intake:
Offer water frequently throughout the day and at mealtimes.
Offer help to those who cannot drink independently.
Offer barley, milk, soy milk, tea, coffee, juice, juicy fruits and soups for variety.
This report investigates how a healthy diet and the right nutrition can improve the lives of persons living with dementia. The publication features:
Dietary factors across the life course that might increase or decrease the risk of onset of dementia in later life;
Relationship between dietary nutrients and dementia prevention;
Recommendations on the actions to take in order to improve the nutrition of persons living with dementia; and
The need for more research on nutrition and dementia.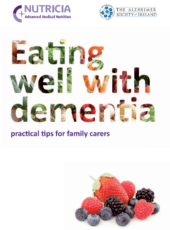 Provides caregivers with information on:
Understanding how dementia can affect a person's appetite and experience with food;
Meeting the nutritional needs of a person with dementia;
Encouraging a person with dementia to enjoy and be involved in meal preparation and mealtimes; and
Dealing with weight loss, weight gain and other issues that can emerge.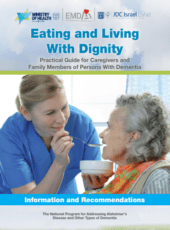 This guide for care professionals and family caregivers provides information, tips, and recommendations addressing the following in persons with dementia, such as:
Difficulties with eating and choosing food;
Constipation problems;
Changes in eating and swallowing as dementia progresses; and
Maintaining health nutrition.