Persons living with dementia often feel confused and disoriented, especially when their memories begin to blur and their functions start to deteriorate. Your loved one living with dementia may have difficulties in performing his/ her usual tasks as their condition progresses. Designing a daily routine is a good way to provide them with some structure. Planning activities they enjoy can be helpful in reducing agitation and improving their mood.
Before designing a daily routine, considering the following about your loved one will help in customising a routine for them:
Their likes, dislikes, strengths, abilities and interests
How they used to plan their days
Times of the day when they feel more alert
Having ample time for meals, bathing, and dressing
Ensuring that they maintain a good sleep cycle by waking them up and letting them go to bed at regular timings
Daily Routine Example Suitable for Early- to Moderate-Stage Dementia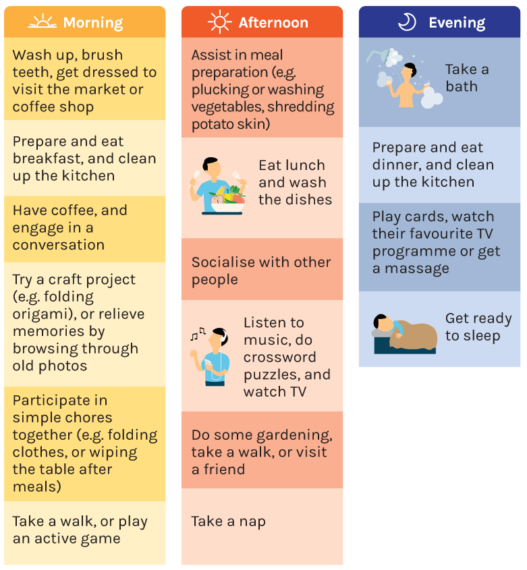 Setting A Routine Keeps Things on Track
Anita's mother lived with dementia and anxieties. Anita's journey with her mother showed her how comforting certainty can be, and how a structured routine can also be beneficial for the caregivers around her.
Source: ForgetUsNot Initiative by LIEN Foundation, Khoo Teck Puat Hospital, & Dementia Singapore