Would you like the opportunity to be involved in playing and evaluating a digital game on dementia?
The Singapore Institute of Technology (SIT) is currently looking for participants to take part in evaluating a game about dementia, and share how this game can affect the attitude towards dementia of the general public.
Evaluation of a digital dementia game in raising public awareness in Singapore: a pre-/post-test study
What is this Study about?
This Study aims to evaluate whether a short digital game can change the attitude towards dementia of the general public.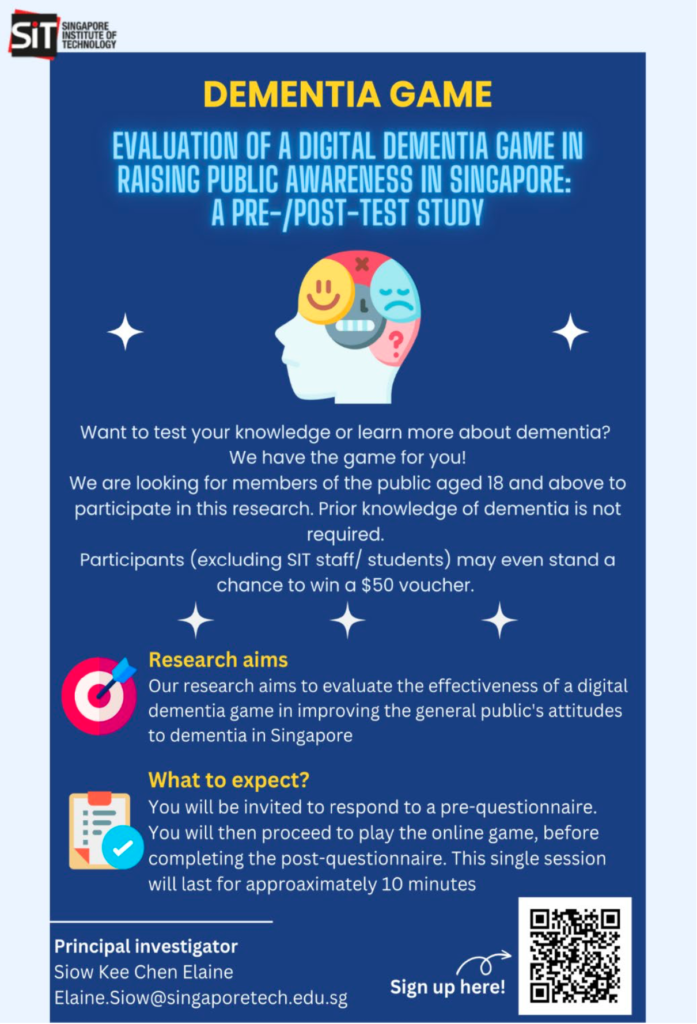 The study team is looking for participants who are:
Singapore Citizens or Permanent Residents
Aged 18 and above
Members of the public
Able to read, write and speak in English
Able to use digital applications
Prior knowledge on dementia is not required
The study team will set up an appointment with you (either face-to-face or over Zoom) to go through the consent form with full details on the study. Once you indicate your consent to participate in this study, you will be invited to complete a 19-item questionnaire before and after you play the game. The study team will also ask for sociodemographic details. The game and questionnaires will take approximately 10 minutes in total to complete.
Participation in this study is voluntary, thus you will not receive any token for participating. You will, however, be eligible for a raffle draw at the end of the study, and stand to win a $50 voucher.
Click the button below to sign up.