There are many changes that come along with living independently with dementia.
If you are staying on your own and currently living with early-stage dementia or mild cognitive impairment (MCI), here are some tips to cope with the changes to maintain your independence for as long as possible.
Make Everyday Tasks Easier
Have a regular daily routine
Create a regular routine, which makes it easier for you to remember what to do in a day. You may consider different types of activities on some days, such as meeting a loved one and going out to have fun. These activities will help your days be more meaningful and engaging, and prevent from being mundane or boring.

Organise your day
Place a calendar or notebook at a place where you can see frequently such as on the door of your refrigerator. On this calendar, you can use it to keep track of your:
• To-do list for the day
• Appointments, such as medical appointments, meeting your family and friends, etc.
• Strike off tasks and appointments when you complete them. At the end of each day, cross out the date on your calendar, as this helps you to be certain of the date when you wake up the next day.
• You may also keep a diary to journal down your everyday activities.
• You can write a few sentences, stick photos and memos (meal receipts, grocery lists and receipts, movie tickets, etc.) to indicate what you have done. You can also write your feelings for the day.
• From time to time, you can look back at this diary to remind you what you did or felt previously.

Use labels and notes
You can stick labels on your cupboards to remind you of the items that are stored inside. You can also stick notes on your main door to remind you to bring your keys and wallet when you head out of the house.

How to remember to pay bills
To avoid missing payments, consider setting up GIRO arrangements to pay the bills from your billing organisations (utility providers, telecommunications companies, insurance companies, etc.). You can apply for GIRO arrangements through Internet Banking or by calling the billing organisations for their GIRO application forms.
If you are concerned that you may forget about the bank account and the GIRO standing instruction, you can ask a trusted person to remind you about it occasionally.
• You can write the bank's hotline number at a place you usually look at every day in case you need to contact the bank.
• Alternatively, you may ask someone you trust to help you pay your bills. This person can also help to review your financial statements and inform you of any unusual activity.

How to manage medications
There are several products which you can use to help you organise and schedule medication dosages. These products include weekly pill boxes and electronic pill boxes with an alarm clock. You can buy these boxes at pharmacies or online stores. Alternatively, you can create reminders on your phone or computer to take your medications.
Making minor modifications to your home can help create a safer and simpler environment for you to continue living independently with dementia. For example:

Create more open spaces
Get rid of unused items such as clothing, appliances, and furniture that are taking up space in your home. Paths to common places, such as corridors leading to your kitchen and bathroom(s) should be direct and free of obstacles.

Remove items to minimise fall risk
Remove or tack down carpets and rugs to prevent slippage. Remove or ensure that electrical cords and wires are tied away (along the walls or at a corner) from pathways for walking to minimise the possibility of tripping over them. Falls can cause injury and disability and make living alone inconvenient or challenging.

Improve lighting
Install night lights in your living room, bedrooms, toilets, and/or along the hallways. Adequate lighting can help you to see better and move around safely at night. Another affordable but useful installation you can make is to make light switches easier to locate by applying glow-in-the-dark tape over them.

Use a stove which turns off automatically
Instead of using a gas stove, consider installing a time-controlled gas hob which has a digital timer that automatically cuts off the gas supply after a pre-set time is up. Read a news article by the Straits Times on gas hobs with safety features.
It is very dangerous should you forget to turn off your gas stove and leave it running. If the stove emits too much flammable gas to the environment after it is left running, a spark can easily set fire to the gas and cause a fire in the house.
Alternatively, consider using an electric stove or induction cooker which switches off automatically when it does not detect pots and pans on its surface.

Install a Home Fire Alarm Device (HFAD)
You can also install a Home Fire Alarm Device (HFAD) if your house does not already have one. The HFAD can detect an incipient fire or white smoke from unattended cooking or electrical fire within the house, and sound an alarm to alert the occupant. When one is alerted about the fire in the house, he/she can either attend to the small fire, or call 995 and escape. Find out more about HFAD.
Find the list of retailers who provide HFADs on SCDF's website.

Install other safety devices
Other safety devices you may want to consider include GPS trackers, emergency alert buttons, and fall monitors. Ask a family or friend to help you buy the right device and set it up for you. Find out more about these devices.

The 360° Virtual Reality Dementia-Friendly HDB Home Design Guide
Visit the latest 360° Virtual Reality Dementia-Friendly HDB Home Design Guide to learn how best to modify your home based on your needs and preferences to continue living independently with dementia.
Carry Your CARA Membership Card
The CARA membership card is helpful in case you get lost or need help. It replaces the former National Council of Social Service (NCSS) Safe Return Card, which now comes with enhanced features. The CARA membership card contains a QR code unique to the registered person living with dementia. In the event that you are lost, members of the public can scan this QR code to raise an alert via form submission. Once the form is submitted, your family or friend tagged to your account will be informed and will be able to help you to safely return home.
Find out more about CARA.
Build Your Support System
Identify people whom you can trust
Identify family and friends whom you can trust and have them as your emergency contacts. Write their phone numbers on a piece of paper and stick it beside your home phone, or save their numbers in your mobile phone. Consider entering their numbers into your speed dial contacts.

Consider sharing your diagnosis with neighbours whom you can trust
Good neighbours can be like family, and they are people who live in the closest proximity to you. If they are aware of your dementia diagnosis, they can keep a lookout and support you when you appear lost or require help.

Go for your scheduled medical appointments
Do not skip the medical appointments with your doctor who oversees care for your dementia condition.
• Your doctor can keep track of the changes associated with your dementia, and both develop and track a care plan for you that has your best interests at heart.
• Your doctor can also provide you with recommendations if you require additional care services (such as medication management services, medical escort services, assistance with daily living activities), or if participating in some programmes in the community may benefit you.

Join support groups
Dementia Singapore has multiple services and programmes for persons living with dementia. You can call Dementia Singapore's helpline at 6377 0700 or visit the website to find out more. Connecting with like-minded individuals and seeking emotional and social support from them may give you strength in knowing that you are not alone in your dementia journey.
Keep Your Mind & Body Healthy
Living independently with dementia also includes adopting a healthy lifestyle. Keeping physically active, eating a healthy and balanced diet, getting enough sleep, and engaging in social activities have shown to help slow down dementia progression.
Healthy food recipes
Sleep well – Try to get at least 7 to 8 hours of sleep every night.
Social activities – Continue to stay connected with your family and friends, visit and chat with them regularly. You may also join a programme at Dementia Singapore.
As your dementia progresses to moderate and advanced stages, alternative living arrangements have to be made because it may no longer be safe for you to to live independently.
It is important to include your loved ones (family and/ or friends) in this discussion on alternative living arrangements so that they understand the way you prefer to be cared for. Ideally, you should start these discussions as early as you can in your dementia journey. Find out more about what you can discuss with your loved ones here: Financial and Legal Support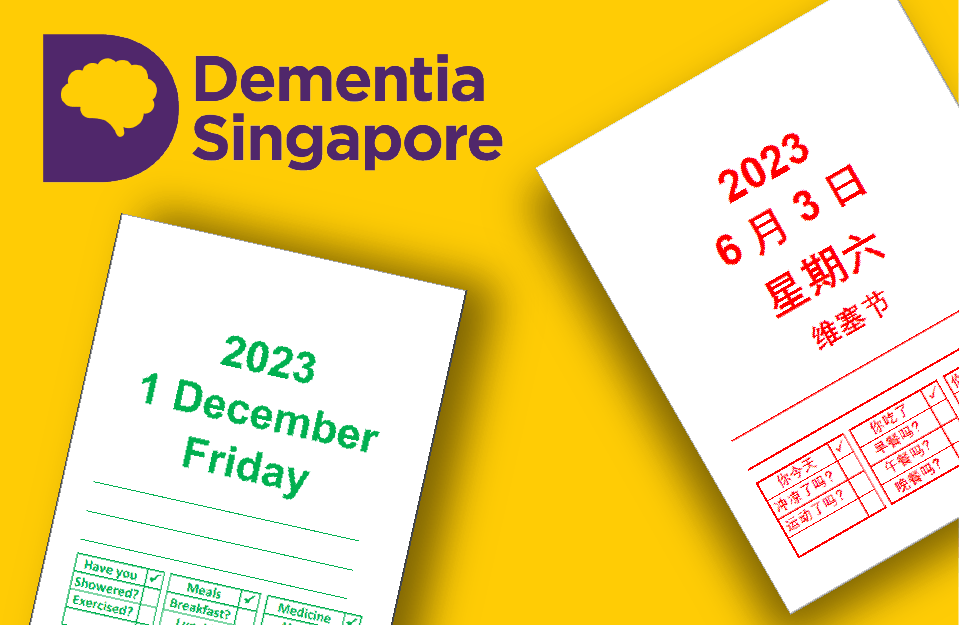 Clear Calendar for Persons Living with Dementia
This calendar was created to empower persons living with dementia to orientate themselves to the date/day of the week and other special occasions, and maintain independence in self-care roles by keeping track of their tasks, including activities of daily living, taking medication and appointments.  Watch the video for a step-by-step guide on how to assemble the calendar.