Research study conducted in partnership with Singapore Institute of Technology (SIT) and Dementia Singapore, join us as a participant in our research study to explore the use of virtual reality in dementia awareness training.
Effectiveness of locally developed virtual reality training applications for Dementia awareness training: A comparative study
What is this Study about?
Singapore Institute of Technology (SIT) is collaborating with Dementia Singapore to assess the effectiveness of a locally-developed training application to improve knowledge, attitudes, awareness and empathy, and study the influence of demographic factors in the effectiveness of VR dementia education.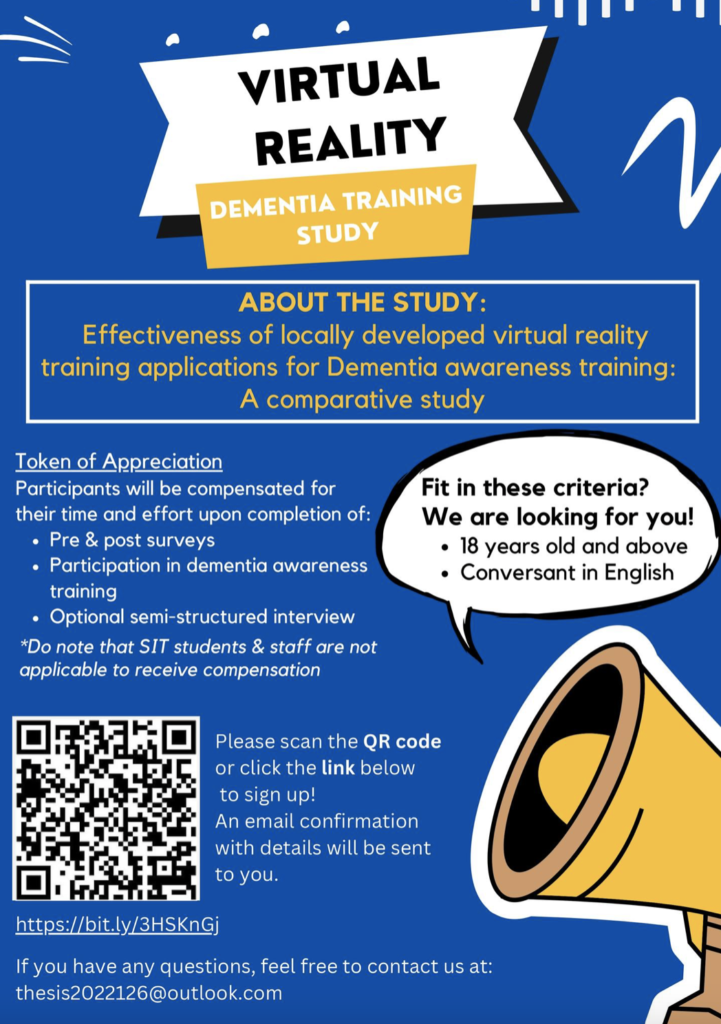 What will I do if I participate in the Study?
You will be asked to complete some pre-training questionnaires to understand your experience with dementia and to determine your suitability to engage in web-based VR.
As part of this study, participants are required to attend a 2-hour dementia awareness workshop which involves the use of VR headsets, using the Experience Dementia in Singapore (EDIS) application developed by Dementia Singapore OR attend a 2-hour dementia awareness workshop via Zoom and watch a video about the experience of a Person Living with Dementia.
You will then be required to complete a post-training questionnaire, and optionally sit for a 20-minute semi-structured interview about your perspective on the training.
Participants will be awarded a $20 voucher if they complete the training as well as pre- and post- training surveys and alternatively, a $30 voucher if they agree to be interviewed as well.
The study team is looking for participants who are:
18 years of age or older
Resides in Singapore
Can converse fluently in English
Scan the QR Code or click the button below to sign up. An email confirmation with details will be sent to you.