Dementia self-advocate Emily Ong calls for sensitivity in on-screen portrayals of dementia that affirm dignity and self-worth.
The Impact of Inaccurate Portrayals of Dementia
As a person living with dementia and self-advocate, I've often been approached to consult on content and films produced on dementia.
In one such script for a short film I was recently consulted on, it depicts the person with dementia in a pitiful state: wandering aimlessly, unable to help an injured loved one and being 'difficult to deal with'.
Negative depictions of dementia already abound in the current public awareness, and only serve to perpetrate the stigma of hopelessness and fear surrounding persons diagnosed with dementia.
It also disrespects and does a disservice to the very people it seeks to portray.
Despite growing interest in and awareness about dementia, it is disappointing that there remains mainstream content being produced that do more damage than good and which furthers the stigma and discrimination of the dementia community.
Responsibility of Filmmakers to Make Informed Decisions
Dementia covers a broad spectrum. While there are some who are diagnosed with rare and progressive types of dementia, many others go on to live independent lives and remain cognitively functioning for a very long time despite dementia.
There is hardly an excuse for content producers to fall back on a sensationalised account of dementia, which often focuses solely on its debilitating effects on persons with a dementia diagnosis and their families.
As content producers… there is great responsibility in carefully and sensitively considering the intent and impact that their content has on the dementia community.
More importantly, they have the responsibility to flesh out more accurate and constructive on-screen portrayals of the subject matter, more so as persons living with physical or mental conditions are often marginalised and their experiences less heard.
If I could, some questions I would ask are: Does the content you create serve to educate or increase public awareness of dementia? Does it create more empathy and understanding towards persons who may not be able to think, act and feel according to the status quo? Would you paint this kind of storyline about yourself or your loved ones?
There are many great stories yet to be told about persons living with dementia who are living their best lives, many examples of persons living not only for themselves, but accomplishing great things that give hope and support to others living with dementia.
If I had a choice, my desire is to live my life to the fullest and enjoy my remaining abilities to do things I love with my family and dear friends.
I remain hopeful that with continuing advocacy efforts on dementia, more content producers and directors will respond to the call to depict characters and stories that affirm the dignity and
self-worth of persons with dementia.
This post was first published in Voice of Dementia (Vol.5), a newsletter by Dementia Singapore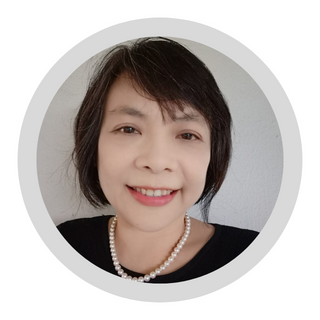 Emily Ong is a trainer, speaker, workshop facilitator, and program developer in dementia-related topics based on lived experience, academic reading and grassroot involvement. She has been a co-facilitator of Dementia Singapore Voices for Hope program since 2019. Emily was also recently elected to the Alzheimer's Disease International (ADI) Board of Directors for the position of person with dementia. Additionally, she serves in the Global Review Panel of the ADI Accreditation Team and a focus group member of the WHO Global Dementia Observatory Knowledge Exchange.